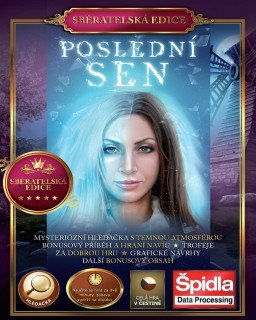 Poslední sen Sběratelská edice
Cena s DPH:
184 Kč

včetně DPH

Dostupnost:
Ihned
Koupí získáte:
2 body
Druh zboží:
Rodinné
Lokalizace:
CZ
Platforma:
Špidla Data Processing
Hra je distribuována digitálně.
---
FOTOGALERIE:
Poslední sen Sběratelská edice
POPIS PRODUKTU:
Poslední sen Sběratelská edice
Každou noc se zjevuje ve snech. Jako by se stále nemohla odpoutat od tohoto světa. Nebo chce něco sdělit? A přitom je to již řada let, co zahynula při autonehodě. Jednoho dne se však objeví stopa, která vás zavede na cestu plnou nečekaných dobrodružství a intrik. Nyní již neexistuje hranice mezi snem a realitou. Noční děsy vás však nezastaví na cestě za opětovným shledáním.
Objevujte stopy a drobné nápovědy všude kolem sebe. Dávejte dobrý pozor a nenechte se odradit. Dívejte se pozorně. Možná potkáte spojence, který bude stát na vaší straně.
Je to všechno jen sen, nebo skutečnost? Ať už je cesta jakkoliv svízelná, nepolevujte v hledání. Na konci najdete opravdovou lásku.
Sběratelská verze představuje delší hru a rozsáhlý příběh. Mějte se na pozoru! Není vše takové, jak na první pohled vypadá. Dojde k nečekané výměně, která vnese do celého příběhu překvapivé rozuzlení. Užijte si hodně zábavy!
Zkušební verze ke stažení
ZDE
Jedná se o plnou verzi se všemi funkcemi omezenou na půl hodiny hry.


VIDEO:
Poslední sen Sběratelská edice
SOUVISEJÍCÍ ZBOŽÍ:
Poslední sen Sběratelská edice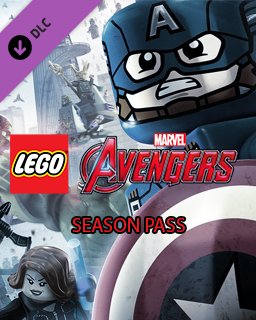 LEGO MARVEL Avengers Season Pass
138 Kč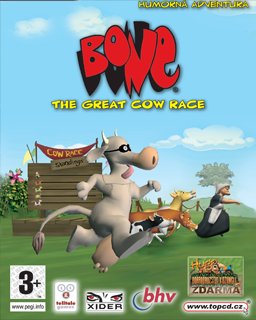 Bone Great Cow Race
92 Kč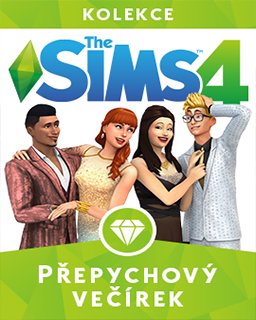 The Sims 4 Přepychový Večírek
281 Kč
---